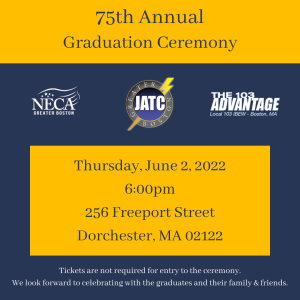 Apprentices are required to report to the tent at Local 103 by 5:30pm that day.
Those who are licensed at graduation will receive a new union card in their diploma with your updated classification "Journeyman Wireman" or "Telecom Tech". You are required to notify your employer's payroll department on Friday June 3, 2022, of your classification change.
If you have enough hours to apply for your license, all information can be found here: https://bostonjatc.com/apprentice-information/license-application-info/
You must notify the JATC when you obtain your license or attempt the exam in order for you to advance to your next step raise.
---
Those who cannot attend graduation must pick up their graduation materials at the JATC reception desk, anytime on the following days:
Wednesday, June 1, 2022
Friday, June 3, 2022
Monday, June 6, 2022
*Your classification will not change until you pick up your graduation materials.
---
Congratulations Class of 2022! Enjoy this lookback over the past five years!
---