Apprentice Information 
All Apprentice related questions can be directed to homework@ibeweducation.com
Click here For RiverWorks Credit Union Scholarship Application: IBEW 103 JATC Scholarship Application 2017-2018
Wentworth Program Summary: Wentworth Information Sheet
Shop Week Schedules
First and Third Year Electrical: 
Groups A&F: Monday, June 5, 2017
Groups B&G: Tuesday, June 6, 2017
Groups C&H: Wednesday, June 7, 2017
Groups D &I: Thursday, June 8,2017
Group E&J: Friday, June 9, 2017
Extra Help Classes for Apprentices 
Code help classes will be held on Mondays 4:00pm to 7:30pm; April 24 & May 8

AC/DC Theory classes will be held on Wednesdays 4:00pm to 7:30pm; April 26 & May 10
Make Up Policy:
If you miss class on a day a test or quiz was given you will be given one opportunity to make up the test or quiz.
Makeups will be available only on specifically scheduled Saturdays from 8:00am to 10:00am.
Report to Room 103 before 10:00 AM. If you arrive after 9:45 AM you will not be allowed to make up the test or quiz.
Any diversion from this Makeup Policy must be arranged with and approved by a Training Director in advance.
Students who fail to complete Academic make-ups at the next scheduled Saturday makeup session will receive a grade of "0" (zero) for those make-ups not completed.
Spring 2017 Shop Make Up Schedule 
If you miss a Shop Class you must make it up on a specifically Scheduled Weekday from 7:00am-3:30pm.
All homework must be completed and submitted by the next scheduled class. Homework assignments are posted on the Apprentice Info tab.
Monday, June 19, 2017
Tuesday, June 20, 2017
Wednesday, June 21, 2017
Thursday, June 22, 2017
Friday, June 23, 2017
First Year Electrical Circuitry
Modules 1 and 2
First Year Electrical
Circuitry
Modules 3 and 4
Second Year Electrical
Circuitry
Modules 1, 2, 3 and 4
Third Year Electrical Fire Alarm
Modules 1 and 2
Third Year Electrical
Fire Alarm
Modules 3 and 4
Third Year Electrical
Industrial Shop
All Modules
Apprentice Tool and Book Cost Lists: 
Electrical Tool List
Telecomm Tool List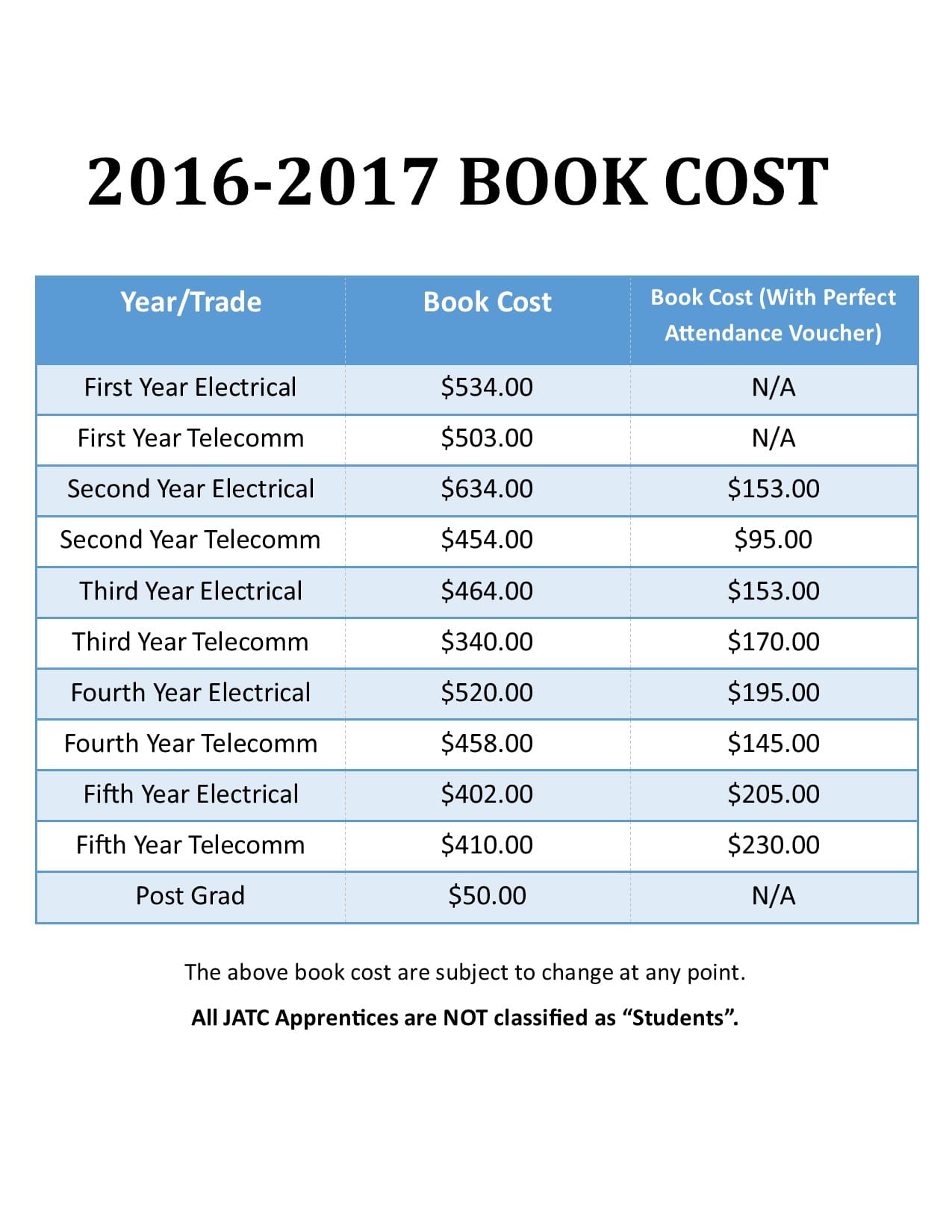 2016-2017 Book Cost Flyer